Press Releases
House Approves Measure to Ensure U.S. Coast Guard Can Carry Out Vital Missions
The U.S. House of Representatives today unanimously approved bipartisan legislation that authorizes the U.S. Coast Guard (USCG) to carry out its vital missions, improves USCG mission effectiveness, helps replace and modernize aging Coast Guard assets in a cost effective manner, enhances oversight, and reduces inefficiencies to save taxpayer dollars. The bill also strengthens U.S. maritime transportation, reduces regulatory burdens to create jobs and encourage economic growth, and improves the Nation's competitiveness.
The Coast Guard and Maritime Transportation Act of 2014 (H.R. 4005) was introduced in the House of Representatives by Coast Guard and Maritime Transportation Subcommittee Chairman Duncan Hunter (R-CA), along with Transportation and Infrastructure Committee Chairman Bill Shuster (R-PA) and T&I Ranking Member Nick J. Rahall, II (D-WV).
"The Coast Guard plays such a critical role in enforcing the law on U.S. waterways, protecting the lives of those at sea, and securing our borders against illegal drug and human trafficking," Shuster said. "This bill helps ensure that the Service has the necessary tools to carry out these and other essential missions. This bill also recognizes how essential a healthy maritime transportation sector is to our economy, our competiveness, and our national security."
"The Coast Guard provides a critical line of defense against threats to America's borders," Hunter said. "This bill supports the mission requirements and needs of the Coast Guard and strengthens the overall effectiveness of the Service. There are also notable improvements aimed at the U.S. maritime industry, which is an asset to both the national economy and national security. And with the resources and improvements provided through this bill, the Coast Guard will continue advancing in capability, and the maritime industry will continue creating high quality jobs."
During consideration in the House today, Shuster recognized Congressman Howard Coble (R-NC), a member of the Transportation and Infrastructure Committee who is retiring at the end of the Congress. Coble is a Korean War Veteran, and the only current Member of Congress to have served in the Coast Guard. He served on active duty with the Coast Guard for over five years, and an additional 18 years as a member of the Coast Guard Reserve. He retired from the Service as a captain. Since coming to Congress in 1985, Coble has served on the committee with oversight of the Coast Guard.
"Howard is a true patriot who has always put his country and the best interests of the Coast Guard first," Shuster said. "I want to thank him for his years of service to the Nation, both as a Coastguardsman and as a Member of Congress. This body will miss him and his leadership, particularly when it comes to championing the important work done each day by the men and women of the Coast Guard. The overwhelming support of this legislation by the House today is a fitting tribute to Howard."
H.R. 4005 includes provisions that support and strengthen the U.S. Coast Guard and U.S. maritime transportation:
Authorizes the Coast Guard for fiscal years 2015 and 2016 at fiscally responsible levels
Supports Coast Guard servicemembers
Helps replace and modernize aging Coast Guard assets in a cost effective manner
Encourages the Coast Guard to work with the private sector
Enhances Congressional oversight
Improves Coast Guard acquisition activities
Works to reduce the Coast Guard's excess property inventory
Requires development of a National Maritime Strategy
Creates opportunities for veterans
Supports U.S. flagged and crewed vessels
Reduces regulatory burdens to create jobs and encourage economic growth
Reforms the Federal Maritime Commission
For more details about the Coast Guard and Maritime Transportation Act of 2014, click below: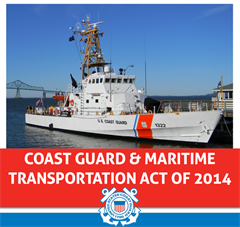 # # #