Press Releases
Hearing on Redeveloping Federal Property through Public Private Partnerships
Case Study: Washington, DC's Federal Triangle South
Economic Development, Public Buildings and Emergency Management Subcommittee Chairman Lou Barletta (R-PA) will lead a Congressional hearing on Tuesday on Federal Triangle South in Washington, D.C. as a case study for redeveloping underutilized federal properties through public private partnerships.
Federal Triangle South (FTS) is located in the southwest portion of the District of Columbia, adjacent to the National Mall and just minutes from the U.S. Capitol and White House. FTS contains several large federal properties – including facilities of the Department of Energy, the Federal Aviation Administration, and the General Services Administration – which are inefficient, costly to maintain, and have a backlog of maintenance requirements. Furthermore, FTS is highly valuable underdeveloped property and not all the federal buildings there are occupied. For example, the Cotton Annex federal building has sat vacant for the last six years.
The Subcommittee will examine the status of FTS redevelopment plans; how public private partnerships can be effectively used to reduce costs, leverage private dollars, and effectively utilize underused federal property; and the potential benefits to taxpayers and the impacted communities.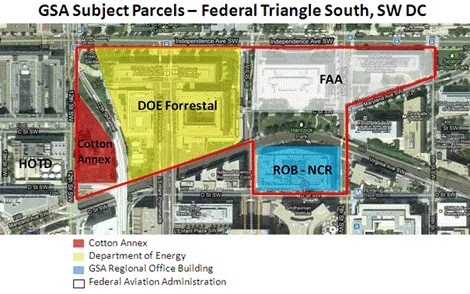 The hearing, entitled "Federal Triangle South: Redeveloping Underutilized Federal Property Through Public Private Partnerships," is scheduled to begin at 10:00 a.m. on Tuesday, November 19, 2013 in 2253 Rayburn House Office Building.
Witnesses list:
The Honorable Jeff Denham (R-CA), Member of Congress
The Honorable Daniel Tangherlini, Administrator, U.S. General Services Administration
Mr. L. Preston Bryant, Jr., Chairman, National Capital Planning Commission
Mr. David Winstead, Chair, Public Development and Infrastructure Council, Urban Land Institute
More information about the hearing, including testimony, additional background information, and link to live webcast, will be posted here as it becomes available.
# # #