Markup
Full Committee Markup (September 19, 2013)
The Committee approved the following bills and amendments:
H.R. 3080, The Water Resources Reform and Development Act of 2013 (WRRDA)
H.R. 3095, To ensure that any new or revised requirement providing for the screening, testing, or treatment of individuals operating commercial motor vehicles for sleep disorders is adopted pursuant to a rulemaking proceeding, and for other purposes.
H.R. 3096, To designate the building occupied by the Federal Bureau of Investigation located at 801 Follin Lane, Vienna, Virginia, as the ''Michael D. Resnick Terrorist Screening Center''
Information about WRRDA: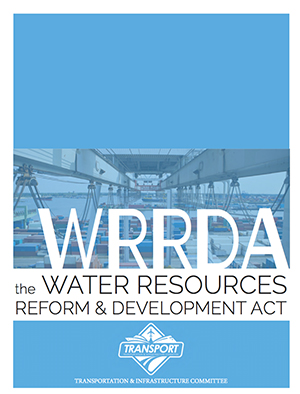 In the following short video, Chairman Shuster explains the importance of the Water Resources Reform and Development Act and why, despite its policy-focused name, it matters to every American, the Nation's economy, jobs, and our ability to remain globally competitive:
Opening Statements
Chairman Bill Shuster (R-PA)
Committee Markup of H.R. 3080, the Water Resources Reform and Development Act of 2013 (WRRDA)
September 19, 2013
Opening Statement
(Remarks as Prepared)
I am proud to be considering one of my highest priorities as Chairman today – H.R. 3080 – the Water Resources Reform and Development Act of 2013 – or WRRDA.
We have worked together in a bipartisan way on this bill since day one. We developed this bill with input from Members and stakeholders in listening sessions, roundtables, and hearings. I want to thank all of my partners and the bill's original cosponsors: Ranking Member Nick Rahall, Water Subcommittee Chairman Bob Gibbs, and Water Subcommittee Ranking Member Tim Bishop. I also want to thank all Members of the Committee and all the staff for their hard work and desire to work together on this important infrastructure and reform legislation. I am also proud that WRRDA has received more than 70 letters of support from stakeholders.
WRRDA matters. This bill is about strengthening our infrastructure so we can remain competitive. It's about economic growth. It's about jobs.
Congress has not enacted a WRDA since 2007. We can't afford to delay to pass today's bill. Without improvement, our water transportation system becomes more obsolete every day, and we become less competitive.
This WRRDA is the most policy and reform-focused legislation of its kind in the last two decades. Even the bill's new name reflects the landmark reforms included; the extra "R:" in the title stands for "REFORM."
Our bill cuts red tape, reforms the bureaucracy, and accelerates project delivery. It sets hard deadlines on the time and cost of studies. It also consolidates or eliminates duplicative or unnecessary studies and requires concurrent reviews. And our bill streamlines environmental reviews.
A top priority of this bill is fiscal responsibility. WRRDA deauthorizes $12 billion of old, inactive projects that were authorized prior to the current law, and fully offsets new authorizations. In addition, our bill sunsets new authorizations to prevent future backlogs.
WRRDA strengthens oversight, transparency, and accountability – and maintains Constitutional Congressional authority.
WRRDA has NO earmarks. And our bill establishes a new, transparent process for future bills to review and prioritize water resources development activities – with strong Congressional oversight, and without Congress handing over its authority to the executive branch.
We have been recognized by leading outside watchdog groups for having a bill with no earmarks and for keeping Congressional oversight without ceding authority to the Corps. I am extremely proud of this accomplishment. We all should be.
WRDDA increases flexibility for states, locals, and non-federal interests. The bill breaks down barriers that hold back the development of our water resources infrastructure. It maximizes the ability of non-federal interests to contribute their own funds to move studies and projects forward, and it also expands the ability of non-federal interests to contribute funds to expedite the evaluation and processing of permits. WRRDA also establishes a public-private partnership program for water infrastructure.
WRRDA improves our ability to compete by authorizing needed investments in America's ports. Our bill supports our under-served and emerging ports to also help them become more competitive. And WRRDA reforms and preserves the Harbor Maintenance Trust Fund and the Inland Waterways Trust Fund, to better ensure that the fees collected from users of these systems are utilized for their intended purpose.
These are all important and necessary reforms, but at its heart, WRRDA ensures that we don't lose sight of the importance of a strong infrastructure. Our bill supports our water transportation network – to keep America competitive, provide a foundation for job growth, and foster a more robust economy. I ask all members of the Committee, Republicans and Democrats, to join me in supporting this bill.
# # #