Press Releases
Shuster, Gibbs Blast Administration for Moving Ahead with Federal Regulatory Expansion Over Waters
Committee Leaders Announce Plans to Hold Oversight Hearing
Transportation and Infrastructure Committee Chairman Bill Shuster (R-PA) and Water Resources and Environment Subcommittee Chairman Bob Gibbs (R-OH) today criticized the Obama Administration for pushing forward with its plans to dramatically expand federal jurisdiction over waters and wet areas in the United States.
The Administration released a proposed rule to ostensibly "clarify" which waterbodies are subject to federal jurisdiction under the Clean Water Act, but which will in effect significantly broaden the scope of the federal government's reach.
"This is another act of an imperial presidency whose reach into the lives of every American, business, farmer, and property owner continues to grow," said Shuster. "On a strong bipartisan basis, previous Congresses repeatedly stopped this proposed expansion of federal power. Having failed to achieve this jurisdiction grab through legislative action, this Administration is now trying to use executive power to skirt Congress' intent in order to still achieve its goals. The Transportation Committee will conduct an oversight hearing on this issue in the near future."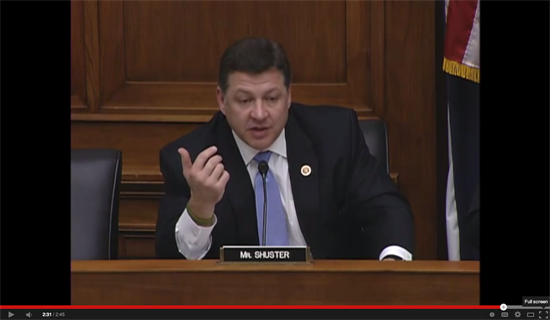 Click above to watch Chairman Shuster's statement on the Administration's rule
"The Clean Water Act was passed by Congress and any amendments to the law should be made by Congress," said Gibbs. "EPA can offer suggestions to Congress, not eliminate Congress and the states from the process to make its own unilateral determinations about what does and does not fall under their jurisdiction."
Shuster and Gibbs previously wrote to the President expressing their concerns that the Administration's efforts to unilaterally broaden the scope of the Clean Water Act could have serious negative consequences for the nation's economy, as well as the rights of states, local governments, and individuals.
This massive federal jurisdiction grab was the subject of failed legislation and significant bipartisan opposition in the 110th and 111th Congresses.
According to Shuster and Gibbs, regulation of the nation's waters must be done in a manner that responsibly protects the environment without an unnecessary and costly expansion of the federal government in order to prevent unreasonable and burdensome regulations.
More details about a Committee hearing will be announced as they become available.
# # #